Hi everyone! It's nice to be here. Been playin for about 25 years now.
I recently found out about the PTC as I was doing research on my new guitar (a stunning DGT 10 top in Natural Tobacco Burst. My 2nd PRS).
So I figured while I'm putting the new guitar through its paces, I would send my old '05 McCarty in for some upgrades
I emailed Shawn and decided on:
Setup
New DGT Frets
Refinish in Black Gold Wraparound Burst
As you can see, this will be a new guitar once Shawn and his crew get done with it! Needless to say, I'm pumped!
I bought this McCarty used off Ebay around '07 or '08 I think. I don't know much about it unfortunately.
I was curious if anyone knows any details of this particular model year?
I definitely appreciate the rich sound and it's been my only electric guitar since I bought it (I've owned Fenders and Ibanez in the past).
I've liked the Tortoise color but always found it a bit bland. The new Black Gold will make the grain show nicely, I hope!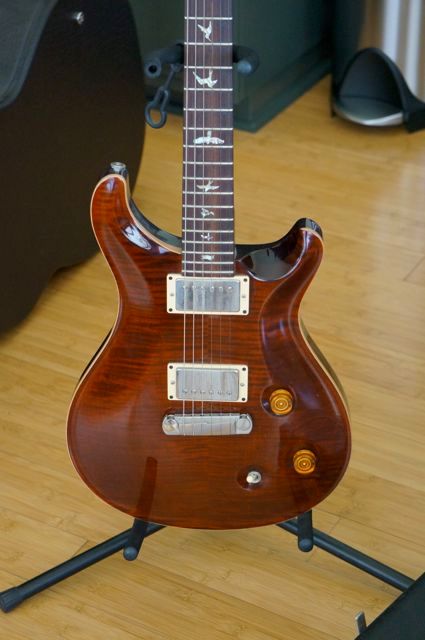 As you may be able to see, there looks to be some nice grain under that Tortoise Shell!
Mike
Here's a thread on the new DGT:
http://prsguitars.com/forum/showthread.php?4181-The-search-for-my-new-PRS
Last edited: